Springfield Business Journal's 2019 class of 40 Under 40 represents 40 accomplished and still-rising professionals in southwest Missouri.
Since its 1999 debut, the awards program has honored individuals under the age of 40 for their professional and civic work.
This year's honorees, in alphabetical order, are:
• Mark Acre, OneSource Insurance Group LLC;
• Karen Braun, Mercy Springfield Communities;
• Elizabeth Brooks, Springfield Riding Club LLC;
• Dustin Brown, Burrell Behavioral Health;
• Lauren Brown, Neighbor's Mill Bakery & Cafe;
• Michael Buttacy, Ozarks Teen Challenge;
• Will Carter, Central Trust Co.;
• Casey Chasteen, Law Offices of Randy L. Smith LLC;
• Dr. Sarah Cimino, Ronald McDonald House Charities of the Ozarks;
• Justin Coyan, Evolent Health LLC;
• Hector Cruz, Evangel University;
• Charles Evans, Associated Electric Cooperative Inc.;
• Laura Farmer, Court Appointed Special Advocates of Southwest Missouri;
• Kaiti Greenwade, Greenwade Law Firm LLC;
• Alex Haldiman, Tomo Drug Testing;
• Heather Hardinger, Taney County Partnership;
• Brandy Harris, Boys & Girls Clubs of Springfield Inc.;
• Cameron Jones, Parks & Jones, Attorneys at Law LLC;
• Cameron LaBarr, Missouri State University;
• Nichole Lemmon, Springfield Public Schools;
• Dr. Derek Magers, Ascend Dental Design LLC;
• Kaitlyn McConnell, CoxHealth;
• Jennifer Peterson, O'Reilly Hospitality Management LLC;
• Phil Rauch, Sancrest LLC;
• Amber Riddle, Little Sunshine's Enterprises Inc.;
• Brian Riedy, Mid-Missouri Bank;
• Lori Rook, Ozarks Elder Law LLC;
• Travis Schnelle, ACIS Computers;
• Millie Schuchmann, Isabel's House;
• Elizabeth Schulte, Abacus CPAs LLC;
• Megan Short, Springfield Contractors Association;
• Ryan Sivill, BKD LLP;
• James Stevens, Dog Gone Mold Springfield Inc.;
• Summer Trottier, Culture Flock Clothing LLC;
• Diana Tyndall, Springfield-Greene County Park Board;
• Dr. Luke Van Kirk, Command Family Medicine PC;
• Andreea Westerhold, Arvest Bank;
• Michael White, SRC Logistics Inc.;
• Ryan Willbanks, Roto Rooter Plumbing & Drain Service; and
• James Wilson, NewStream Enterprises LLC.
SBJ has partnered with the Discovery Center for the 40 Under 40 event to raise awareness and funding for the nonprofit organization devoted to providing STEM education to underserved local children.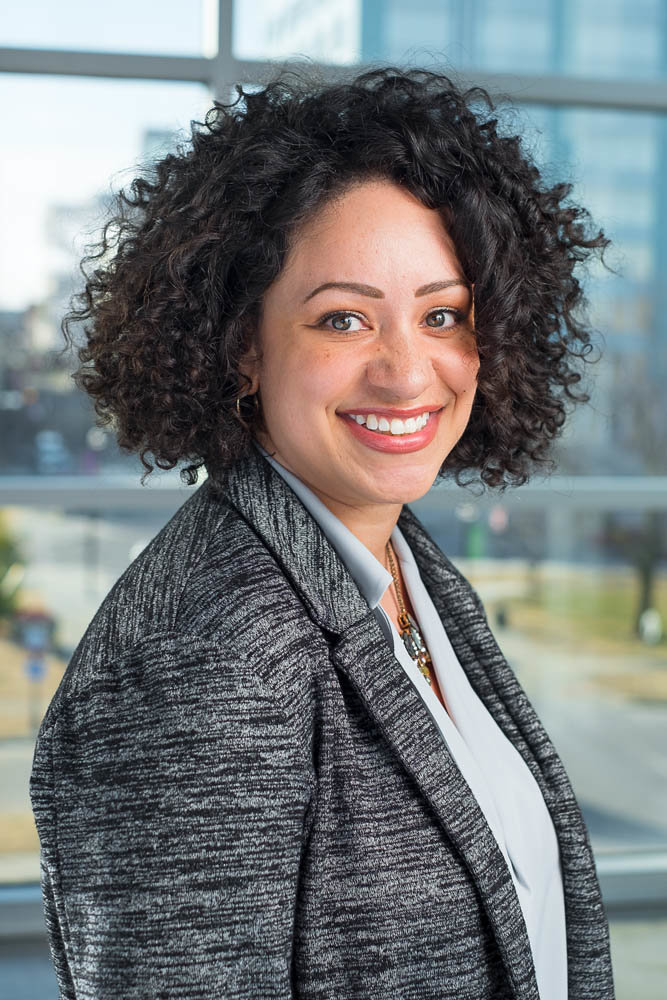 Heather Hardinger is a thought leader at her dream job. She's the director of workforce strategy and programs for Taney County Partnership, where she leads initiatives promoting inclusivity and growth.
Hardinger coordinated efforts for the Hispanic Workforce Coalition in Taney County and she's involved with numerous organizations, including the Mayor's Commission for Human Rights and Community Relations in Springfield, Bread for the World Inc. and Safe to Sleep women's shelter.
Hardinger graduated from Evangel University with a bachelor's in international and multicultural studies and from American Public University System with a master's in political science.