February 1, 2017 Local News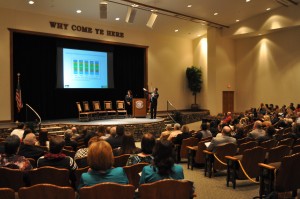 Taney County Partnership Executive Director Jonas Arjes and Programs and Communications Director Heather Hardinger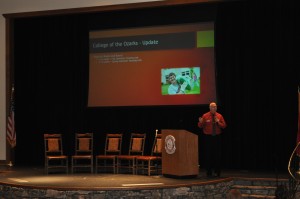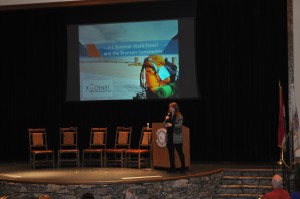 by Tim Church
POINT LOOKOUT, Mo. – The Taney County Partnership welcomes area employers, businesses and organizations to its 2017 Community Workforce Summit on Tuesday, to gain insight into the workforce challenges facing the Branson-Lakes area.
During the summit, attendees were introduced to many of the upcoming trends in workforce development, including talent attraction and retention, empowering and developing the next generation of workers and an analysis of Taney County's top industries and in-demand jobs.
Taney County Partnership Executive Director Jonas Arjes explains why employers need to come to an understanding of these trends:
Programs and Communications Director Heather Hardinger adds that Branson has a lot of economic opportunities available and the best way to fill these open job positions is to teach employers how to connect with employees:
Workforce summit attendees additionally heard from panels featuring industry experts and education leaders and a keynote address on high-performance culture from CIO of People Centric Don Harkey.