Named after the owner of the area's first general store and later developed as a center for lumber shipments, Branson, Missouri, had an inauspicious start as a tourism destination. Over the course of the past century, however, Branson has built a reputation as a "family friendly" counterpart to Las Vegas, featuring a high density of live music and theater performance venues along a stretch of State Highway 76 nicknamed "The Strip."

Billed as the "Live Entertainment Capital of the World," the city of just over 11,000 residents now attracts more than five million visitors each year. Apart from Branson's bright lights and Vegas-style neon road signs, the area offers outdoor recreation at its three lakes, several championship golf courses, an award-winning theme park, and many new amusement complexes.
The following details some of the new developments in Branson and their impact on the local hotel market.
Diverse Attractions and Developments
The Branson market is highly seasonal, peaking from May to November, with limited visitation during the winter months. Weekend demand comprises people visiting friends or relatives, as many of Branson's tourism attractions operate on a seasonal basis.
Developments including Branson Landing, the Branson Convention Center, and Branson Airport, all built in the middle of the last decade, helped enhance Branson's position as a national and international tourism destination. Branson Landing, a $450-million mixed-use project situated on 95 acres along Lake Taneycomo, features a blend of retail, hotel, convention center, condominium, and theater space within a master-planned community. In addition to over 100 stores and restaurants, the lifestyle center includes a $7.5-million fountain display with synchronized water, fire, sound, and light components. Shopping has also become a major attraction, with several destinations located along historic Highway 76 and at Tanger Outlets.
These retail developments have effectively extended the peak period for visitation into May by providing visitors more options and encouraging other attractions to open earlier. Local officials even claim that Branson now enjoys substantial tourism numbers year-round.
Changing Times: Visitation Growing to Branson's Outdoor and Amusement Centers
After decades of catering to an older demographic, Branson is becoming better known throughout the Midwest for its outdoor and amusement offerings, which are aimed squarely at a younger demographic. Outdoor attractions include Table Rock Lake and natural areas in the Ozark Mountains, which offer activities such as hiking, biking, camping, boating, horseback riding, fishing, hunting, trap and skeet shooting, spelunking, and rock climbing.
The award-winning Silver Dollar City, Branson's most popular theme park, brings in more than two million people annually, including international visitors. New rides and attractions are continually under development at Silver Dollar City, which also hosts many headlining events. Festivals at the park include World-Fest, a celebration of international cultures that concluded a run of more than two decades this spring; the festival will reportedly be replaced with an event of even greater magnitude in future years. The annual National Harvest & Cowboy Festival, which features a craft festival and Wild West shows, runs from mid-September through October. Silver Dollar City completed an $8-million expansion in 2015 called Fireman's Landing, and a new attraction is expected to be added to the park in 2017.
Branson % of 2014 Visitation by Month and Season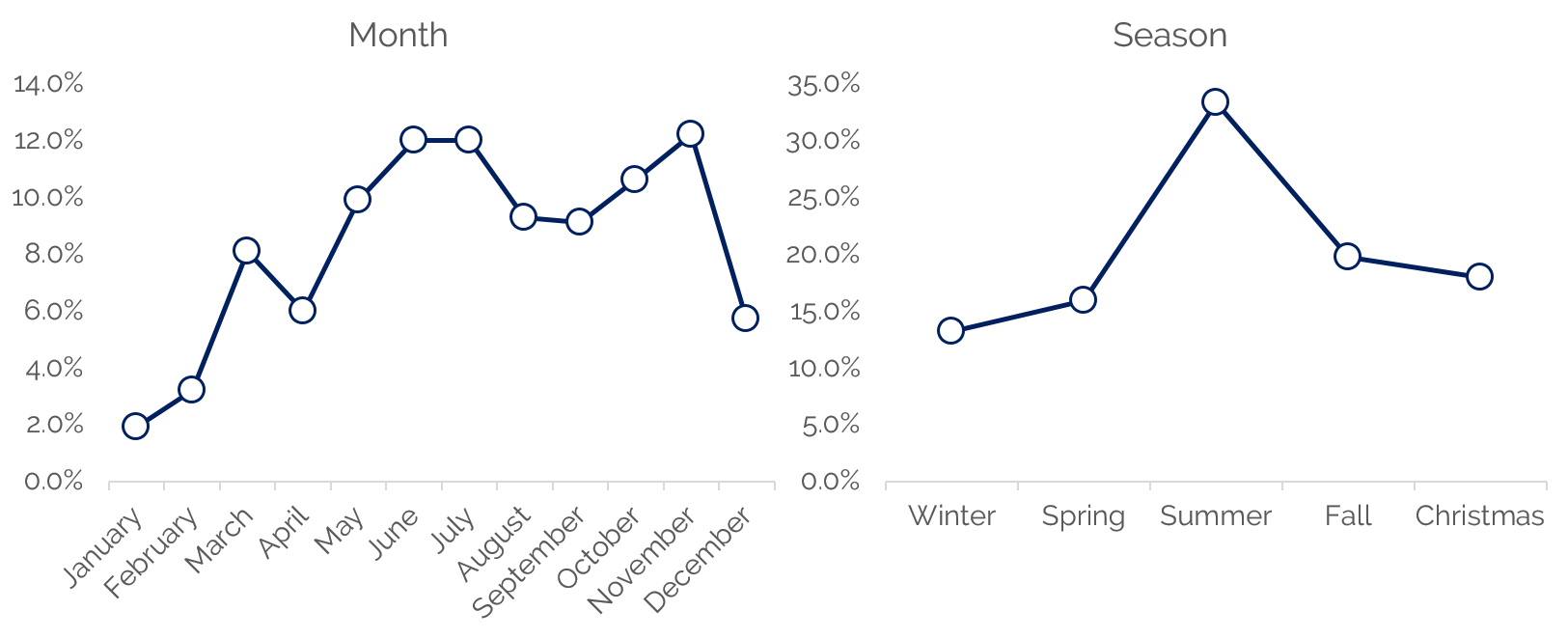 Source: City of Branson, MO
Sporting events, particularly youth events, are increasingly drawing hotel demand to Branson. Since 2008, Branson has ramped up marketing efforts and infrastructure improvements to bring more regional tournaments to the area. The long-awaited Ballparks of America opened in July 2016, welcoming its first round of players and coaches of youth baseball teams. The $25-million complex will feature five baseball fields by the end of 2016, which replicate small-scale iconic elements of historic baseball stadiums, such as Wrigley Field's landscaping and Fenway Park's Green Monster.
The shift in Branson attractions from live performances to sports, shopping, and amusement is made clear by the annual increases in revenues. As illustrated in the following graph, the live-show category has begun to fall off in recent years, while other segments have picked up pace.
Year-to-Date Figures Show Substantial Increase in Amusement and Hotel Revenues in Branson, with Theater Revenues the only Category to Decline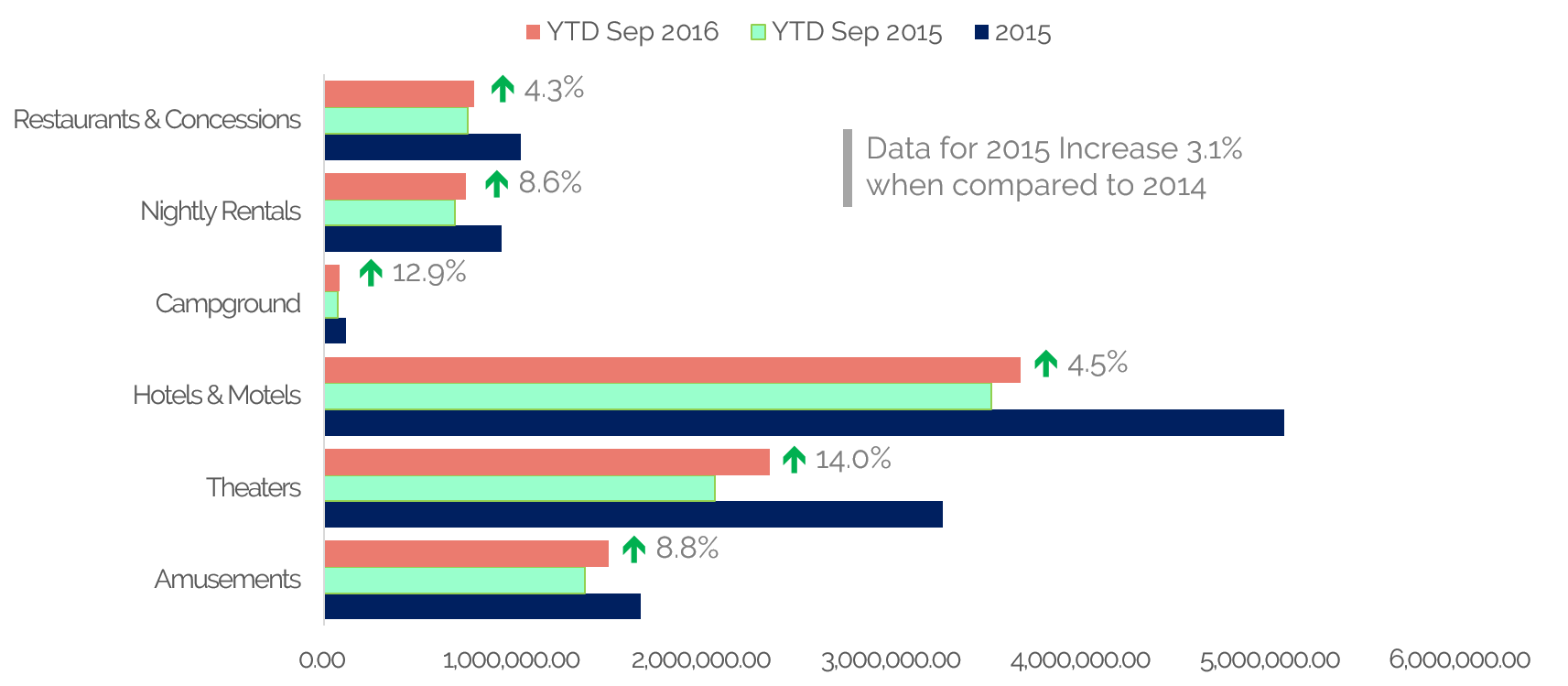 Source: City of Branson
Disposable Income Rises, Gas Prices Drop, Bringing More People to Branson
Taney County Partnership Executive Director Jonas Arjes describes Branson as a "rubber-tire market," as the vast majority of visitors arrive by car or bus. Declining gas prices and increasing employment levels have therefore enhanced Branson's profile as an attractive tourism destination for residents of the Midwest and beyond, which has positively influenced lodging demand.
Room-Night Demand in Branson Rose Far Above Average of Eleven U.S. Tourism Markets in 2015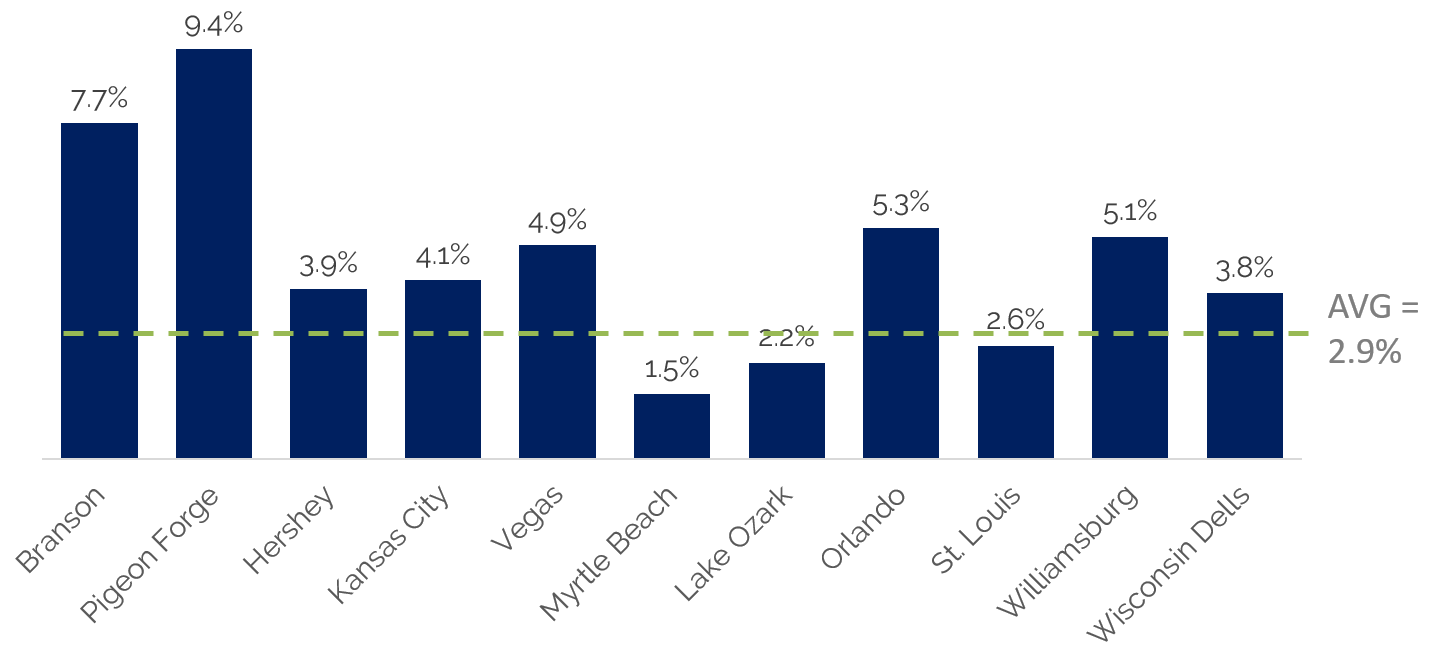 Source: City of Branson, MO
Gasoline is down 14% YTD
Gasoline prices ended 2015 at an average of only $2.51/gallon, the lowest monthly price experienced in the U.S. since 2009. The average cost of a gallon of gasoline is down almost 14% year-to-date August 2016 compared to year-end 2015.
U.S. Average Monthly Gasoline Price*

Source: U.S. Bureau of Labor Statistics
*Average of all gasoline types
Unemployment Continues to Fall
The U.S. unemployment rate (4.9%) stands at its lowest level since April 2008. Unemployment rates improved by 11% in 2015, falling from 5.7% in January to 5.0% in December 2015. Year-to-date 2016 rates are lower than 2015 with May 2016 rates dipping to 4.7%.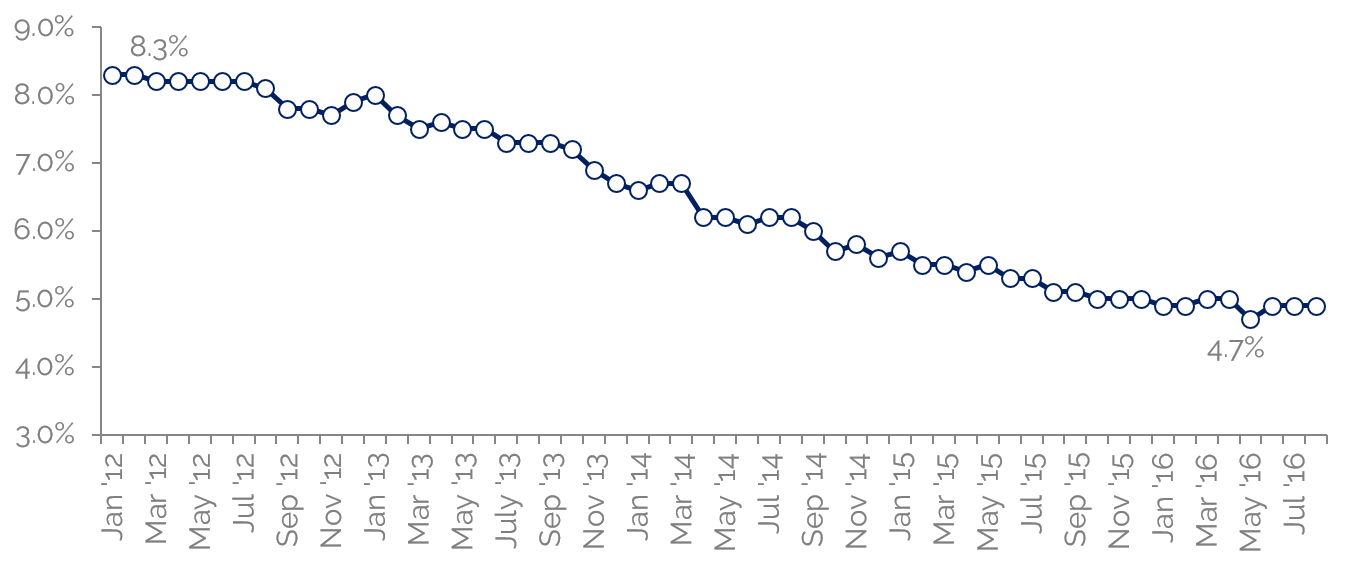 Source: U.S. Bureau of Labor Statistics
Notably, the shift in hotel demand demographics may disproportionately affect non-branded hotels in Branson. Historically, independent hotels have done exceptionally well in the Branson market. Younger travelers, however, especially millennials, have a strong preference for brands and the specific amenities offered by branded hotels. In addition, adolescents have become accustomed to modern amenities and luxuries that branded properties provide in comparison to some of the market's independent hotels. This could provide opportunities for well-known national and international hotel brands to move into or increase their presence in the market.
Branson's Newest Amusement Draws
The Track Family Fun Parks recently brought the famous 15-story Ferris wheel formerly featured at Chicago's Navy Pier to Branson. The attraction, which took its inaugural spin this June, sits on a site along State Highway 76 overlooking the Ozark's and Branson's famous downtown.
A new, $10-million amusement park is set to open in Branson this October. The new "dynamic family" attraction, Fritz's Adventure, brings the excitement and challenges of outdoor adventures into a multi-dimensional indoor environment, including zip lines, an underground tunnel maze, and ropes courses.
Future developments in Branson include the Mountain Adventure Resort, a new 80-acre adventure park that will feature rides never seen before in the Ozarks. Mountain Adventure Resort makes use of the inclines and topography of the Ozarks; upon completion, it is expected to feature a "zip coaster," zip lines, and a ropes course. The Runaway Mountain Coaster, a 5,000-foot-long Alpine track through Ozark forests, opened in August 2016.
Big Foot on the Strip, currently under construction and scheduled to open this year, will feature four rides, including a 200-foot free fall and a slow-descent overlook of the Ozarks. The $10-million Bigfoot on the Strip is the fifth attraction in Branson from the owners of Branson Zipline & Canopy Tours, Parakeet Pete's Waterfront Zipline, Parakeet Pete's Steampunk Balloon Rides, and Fast Shot Shooting Gallery.
Summary of recently open and future amusement attractions :

Outlook
A strong economy has produced more vacationers nationwide, and Branson has positioned itself to capture a wider demographic of this demand, especially in the Midwest and South. Branson will always be known for its dazzling theaters and performances along State Highway 76, though the area's outdoor and adventure-themed attractions are on the upswing, with strong revenue increases recorded in the past year.
After years of stagnant demand, Branson's hotel industry could realize one of its best years since the Great Recession late last decade. The Taney County Partnership recently announced more than $300 million in development and redevelopment projects underway in the Branson area. Convention business is on the rise and lodging demand created from local events continues to strengthen. Convention demand also has an indirect impact on leisure demand, as convention attendees tend to return to the area to vacation with friends and family. Taken together, these shifts and upward trends position the Branson hotel market for continued growth in the near future.
About Justin Westad
Justin Westad, a Project Manager with HVS St. Louis, has worked in hotels and hospitality real estate since 2010, having specialized in disposition and advisory services for hotels across 13 states. Prior to joining HVS in 2015, Justin worked for Marcus & Millichap's National Hospitality Group as an Analyst, providing comprehensive market research, underwriting, and financial analyses for hotel real estate across the Midwest. Justin graduated magna cum laude from the School of Hospitality at DePaul University with a BS in Lodging and Revenue Management. He holds a Certification in Hotel Industry Analytics (CHIA). For more information, contact Justin at jwestad@hvs.com or (314) 943-6307.